NPO Corporation Health and Welfare Services Organization of Japan is founded for making community where the Asian live filled with hopes and dreams and keep one's mental and physical healthy. Also, in terms of "Asian Life Zone" and "Asian Familism", our organization develops and supports the business of health, hygiene, medical and welfare based on the cooperation of the local community and the inter networks of organization members. Through these various activities, we and our fellows will continue to work hard to assist more people in the field of medical and welfare. Please understand our activities and show your big support and cooperation. Thank you.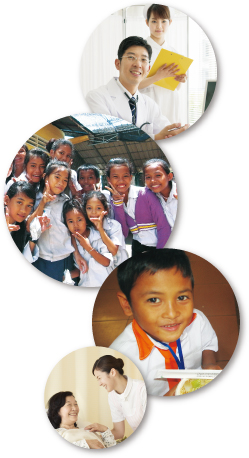 Nonprofit Organization
Health and Welfare Services Organization of Japan
4F Sankyo buildings, 4-4-11, Kamikizaki, Urawa-ku, Saitama-shi, Saitama 330-0071, Japan
TEL.+81-48-826-7155  FAX.+81-48-826-7156
Cheif Director Otake Toshio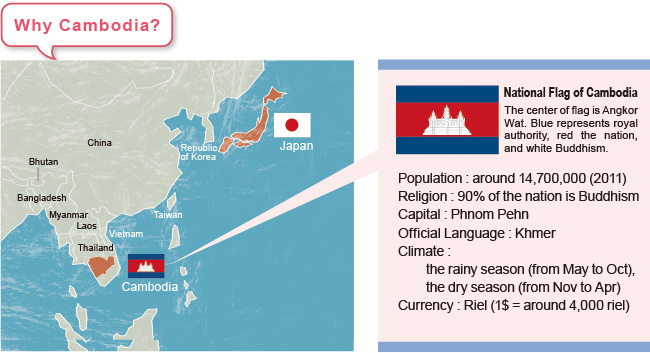 Kingdom of Cambodia...
Kingdom of Cambodia is located in the center of Indochina, and thanks to the rich natural environment it is famous for numerous world heritages including Angkor Wat. After the independence from France, Civil War lasted over the long time since the Pol Pot administration seized the power in 1975. In 1993, the new Kingdom of Cambodia was established and has made an effort to improve public safety and work for economic revival. After 1993, Supporting organizations around the world, including Japan, and Cambodian politicians have founded lots of schools. However, the number of teachers and health professional are too insufficient to cultivate human resource.
Therefore, we are doing our best to carry out "Wide-area Children Health Care Business" for delivering effective health-care services to local children. In additions, we are trying to improve the health hygiene of children and cultivate its human resources who can take an active part in the local community.
The light of each of us might be tiny but it becomes huge light when we and fellows join together. We will continue to do supporting activities in Cambodia. Thank you.

"Project of building hospital for the Cambodian children" is an NGO activity that trains the health care workers, and develops the medical infrastructure in Cambodia by building and running not only hospitals but also institutions for raising medical professionals in order to meet children's hope of growing well and healthy life.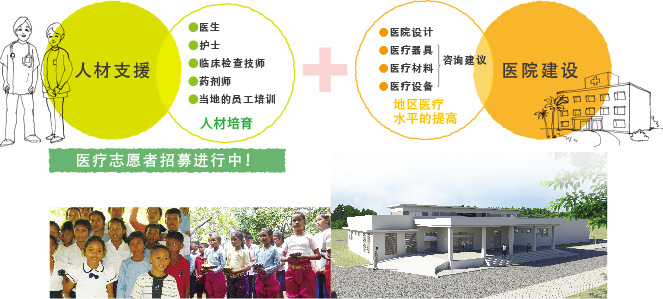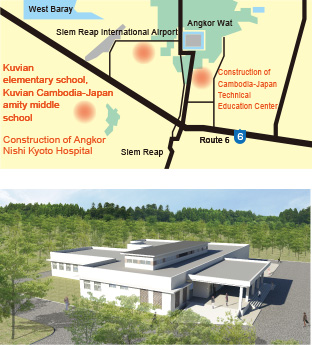 Name : Angkor Nishi Kyoto Hospital
Structure and Scale : Reinforced concrete frame, a single story, 1827.60m2
●Directions
Angkor Nishi Kyoto Hospital is located at around 3km away from the southern end of international airport to the South or located at around 2km away from the main entrance of the Angkor golf resort to the West.
●Medical Services
internal medicine / surgery / medical examination of adult disease / dentistry (X-ray, clinical laboratory testing equipment)
●Sickbed...37 beds (29 beds for general / 6 beds for special / 2 beds for ICU)
●Cooperation Hospital
・Sikarin Hospital in Thailand ... JCI accredited hospital
●Support Hospita
・Nishi Kyoto Hospital
・Biwako Ohashi Hospital
・Konosu Kyosei Hospital
・Dalian Shizhongxin Hospital (China)
・Ken Clinic (Phnom Penh : Japanese Dr.)
・Daejeon Health Sciences College (Republic of Korea) and so on.